Intel's Memory Push Is Huge For Its Data Center Business
Summary
Intel announced that it will invest up to $5.5 billion in its Dalian, China fab over the next 3-5 years for producing SSDs.
This is a huge development for the company's data center business, as its long-term goal is to become a complete provider of data center solutions.
With this development, Intel's dependence on Micron for making non-volatile memory will significantly decrease.
Intel (NASDAQ:INTC) announced last week that it will invest up to $5.5 billion into its Dalian, China wafer fabrication facility to transform it to a production base of leading-edge non-volatile memory. The facility, which has been in operation since 2010, currently manufactures Intel's 65nm chipsets for laptops, PCs and servers.
Earlier this year, the company announced that in collaboration with Micron Technology (NASDAQ:MU), it will develop 3D NAND flash memory chips based on the 3D NAND and 3D XPoint technologies. Many industry observers are speculating that Intel's recent move can prove to be a threat to Micron, with chipzilla possibly lowering its reliance on the JV with Micron. Needham downgraded Micron to "Hold" from "Strong Buy", stating:
Intel currently holds about 2.7% market share in NAND versus Micron's 16.5%. While details are still emerging as to Intel's plans, its focus on the nonvolatile memory market leaves us feeling that the pricing and supply/demand environment could come under pressure.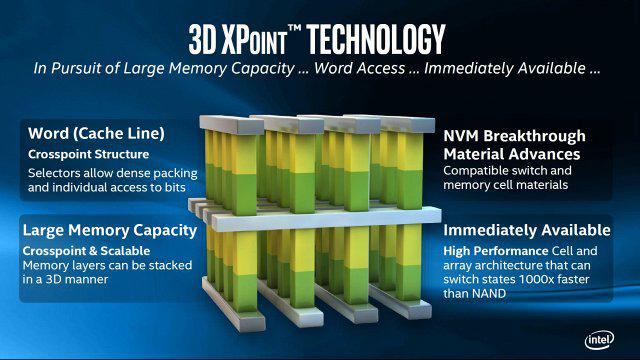 Photo Credit: Intel
Positive development for Intel's data center business?
Yes, certainly. It's true that Intel currently has a small share in the NAND market, but it is aiming at grabbing a bigger slice from competitors like Samsung (OTC:SSNLF), Western Digital (NASDAQ:WDC), SanDisk (NASDAQ:SNDK) and even its partner Micron. In a previous article, I analyzed how SanDisk's enterprise SSD products were poised to drive its growth and share price. Western Digital's acquisition of SanDisk will certainly strengthen its enterprise SSD product line, but Intel is silently emerging as a tough competitor for the leading players in today's enterprise SSD market. The revamp of Intel's Dalian, China facility is a significant step in that direction.
For Intel, the NAND market is very important for its data center business. The company's long-term goal is to become a complete provider of data center solutions beyond server chips, such as fabric, silicon photonics and non-volatile memory. Combined with its core x86 server chip revenue, these solutions have the potential to grow Intel's overall data center revenue at a much higher CAGR than the general expectation. With the company having huge unutilized fab (wafer fabrication facility) capacity, expanding its non-volatile memory business certainly makes sense. In fact, it can't afford not to be in the SSD game.
Intel can't afford not to be in the SSD market
In today's era of software-defined storage, processors and SSDs remain tightly coupled in a server's memory-CPU channel, wherein SSDs are used as server accelerators. Keeping cache and memory, including NAND chips, closely tied in a server's memory-CPU channel results in optimal performance as long as SSDs are used as server accelerators. Intel makes / will make lots of money by selling commodity server chips, but by selling application-specific SSDs along with these chips, the semiconductor giant can generate huge additional revenue. How can it afford not to do that, with its huge unutilized capacity in fabs?
When SSDs are used exclusively for storage purpose, they might be kept elsewhere outside the server. In such cases, processors are irrelevant. However, Intel is aiming at redefining the boundary between memory and storage, which, in essence, means that SSDs will act as either memory or storage or both, depending on the situation. Although processors are irrelevant here, Intel's SSDs will see greater demand than that of competitors due the x86 platform compatibility. In a virtualized environment, software assumes significant role, and as I have said repetitively in my previous articles, Intel is investing huge money in developing a standardized software ecosystem for data centers. Such a software ecosystem will strengthen the platform compatibility, leading to more demand for Intel's NAND products.
Read More of Original Article Found Here:
http://seekingalpha.com/article/3601426-intels-memory-push-is-huge-for-its-data-center-business?page=1


---
---